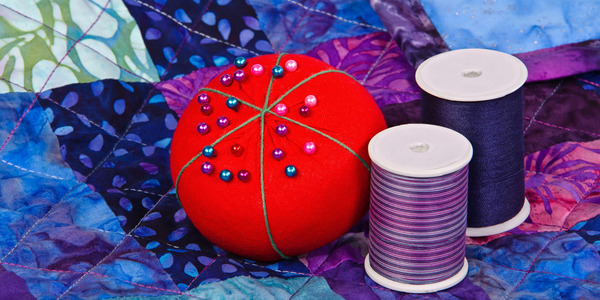 Crazy Quiltmakers: Quilt Artists of the Nineteenth Century
A hands on, close-up look and crazy quilts from an artistic view is presented with a PowerPoint presentation and real Crazy quilts!
Quiltmaking That Saw Us through WWII
View over 30 WWII era quilts set in time historically with a well-researched PowerPoint presentation.
Click here to read more information about these quilts, which are available as a quilt exhibit, a quilt lecture and trunk show, or an educational package.
Welcome to My Quilt Garden!
Floral quilts spanning 100 years. Many quilters are gardeners trying to bring the beauty of their outside labors indoors. This PowerPoint presentation examines a large range of quilts in floral designs with a trunk show of over 30 quilts.
One Thousand Pieces and Counting: Multitudinous Pieced Quilts
The fad for making quilts with thousands of pieces began around 1876, with the celebration of our country's Centennial. See quilts with a PowerPoint presentation and trunk show that exemplifiy this "Waste not, Want not" approach to quiltmaking.
A Gathering of Red and Green
This PowerPoint lecture includes a trunk show of more than 30 nineteenth-century Red and Green quilts and Sue's newly made Christmas quilts. It is the perfect Guild choice for a Christmas presentation!
The Quilting Blues
Historically, women have loved the color blue in quilts. Sue explores the use of blue with quilts that span over 150 years of quiltmaking.
Happy Birthday, America! Centennial and Bicentennial Quilts
Learn about the popular quiltmaking at the time of our country's Centennial and Bicentennial celebrations through a PowerPoint presentation and trunk show.
With Needle and Scroll: How to read a Signature quilt
Signatures quilts give many clues in the fabrics, patterns and inscriptions. See the many examples in Sue's collection and learn how she researched each of them.
Tulipmania: A Quiltmaker's Infatuation
Historically, tulips are the most quilted and appliqued flower. Learn about the fascination with tulips throughout the centuries and see how quilters used them in design.
Quilts and Quiltmakers Covering Connecticut: A Chronology of Connecticut Quilts from 1759 – 1950
The Content Newton quilt from Durham, CT is just one of the many quilts presented via PowerPoint. In addition, Sue Reich will share her collection of Connecticut quilts.
Attitude and Perserverence: Quiltmaking All about Me!
This workshop focuses on making quilts that focus on women's physical, mental and spiritual wellbeing.